Farm Buildings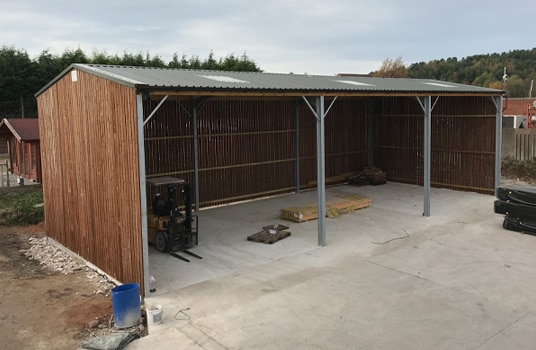 Agricultural buildings provided by us are designed to reflect your business needs. They are manufactured to commercial standards and offer any farm or landowner a long-lasting, cost-effective and easy-to-maintain solution to any construction challenge! 
We have a wide range of agriculture kit buildings for sale, both custom to your design requirements, or as a ready to buy kit building on a supply only basis.
All our steelwork is manufactured to CE marking standards in our Derby workshop and – with 40 years of experience in the field – our team of industry experts will work closely with you during the consultation and design stages to ensure all steel buildings are designed to suit your needs and are constructed smoothly from start to finish.
Whether you're looking for a livestock building, a sturdy grain shed, a hay barn, a horticultural building, cattle building or require something more multi-purpose; we'll be able to help. We offer a wide range of agricultural steel buildings suited to many different applications.
We have an experienced team of installers who will carry out the construction of your agricultural kit buildings. Each member of our team works to ensure your new building is erected safely and securely leaving you with a high standard end product.
Agricultural Steel Buildings
We Manufacture & install:
✔ Livestock Buildings
✔ Hay Barns
✔ Horticultural Buildings
✔ Grain Sheds
✔ Workshop Buildings
✔ Poultry Buildings
✔ Cattle Buildings
✔ Custom Buildings
✔ Large Buildings
✔ Small Buildings
We are able to deliver our farm buildings in kit form, or fully construct the building for you. All steelwork is manufactured in the UK to the highest standard. Our steel carries the CE mark for safety and reassurance. Agricultural buildings for sale by us are a sustainable solution. If you're interested in buying new farm buildings, contact us for more information.