Steel Storage Buildings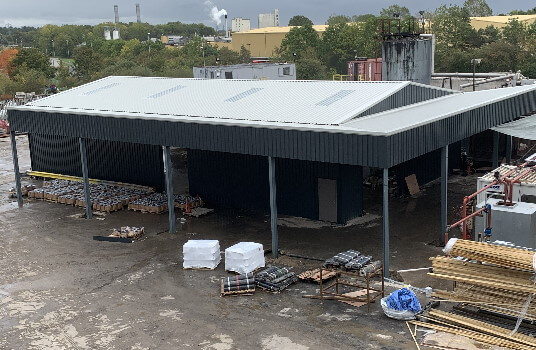 Designed and configured to your individual needs, our storage buildings are secure, convenient, and cost-effective. Our storage buildings are designed to fit your specifications and meet virtually any storage requirements.
We are able to provide high-quality steel storage buildings that are suitable for multiple applications. We have manufactured and constructed large scale projects that have very specific requirements. We have also completed smaller-scale projects such as a steel building constructed for the storage of a singular vehicle.
HIGHEST STANDARDS & DELIVERED ON TIME

MANUFACTURED IN THE UK

COMPETITIVE PRICES
Whether you're looking for commercial use or as a personal storage solution, our clear span steel frame storage buildings are all manufactured to CE marked standards in our Derby workshop; ensuring your new building meets your needs regardless of scale.
We manufacture storage buildings for a wide range of applications. We always install buildings that meet the required British Standard (BS) and ensure that the right features are added to ensure you get the very best from your building. We have recently completed a unique storage building for an Asphalt recycling company in Northampton. The building included a lean-to loading bay to complement the main buildings.
If you require any further information about our storage buildings, please contact us. We are available by contacting us directly through the website or calling 01283 735 522. If you are ready for a free quote, you can complete a quotation fill in form online.
---
To increase the amount of space you have in your new building it is worth installing mezzanine floors. Learn more about the benefits of mezzanine floors in our blog.