Steel Hay Barns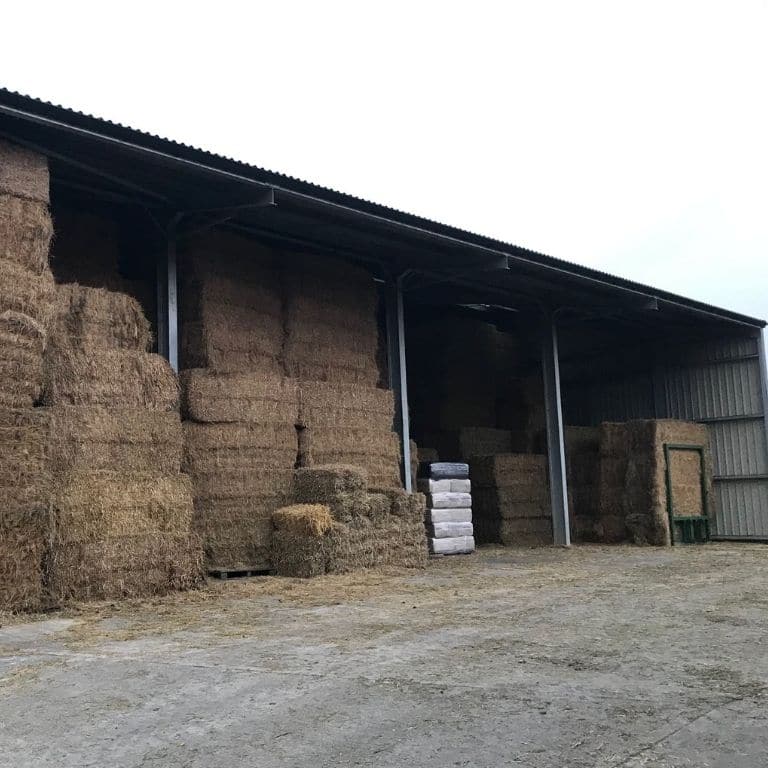 Purchasing a hay barn is one of the most cost-effective ways to reduce hay wastage. A Steel hay barn will improve the quality of the hay you store, which will be much healthier for your livestock.
Whether you grow your own or purchase in bulk, protecting your straw or hay from moisture, mould and bacteria is important for maintaining the quality of your stock and avoiding loss or damage. Offering you a safe, secure storage solution for your hay or straw, our freestanding hay barns can be installed as a basic roof on legs structure or tailored to a design that best meets your needs.
Designed specifically to be well-ventilated and easy to keep clean and well organised; our team of experts takes the time to fully assess your storage requirements to ensure that your hay or straw is safely and effectively stored all year round. We also apply the same level of attention to all of our agricultural buildings and steel framed farm buildings.
HIGHEST STANDARDS & DELIVERED ON TIME

MANUFACTURED IN THE UK

COMPETITIVE PRICES
All steelwork is manufactured to CE Marking standards at our workshop in Derby and can be painted or galvanised with either fibre cement roof or 0.7mm box profile metal sheeting. Our hay barn kit buildings are made to the highest standard
We provide sustainable buildings that are long-lasting and low maintenance. Our buildings have proven to improve the quality and longevity of hay. Many horse owners choose to install our metal hay barns as they are efficient and provide the best protection for their hay. As our steel hay barns are easy to install, we can design and construct your building quickly, meaning your building will be ready within a short timescale. For more information, contact our team today.
The overall benefits of installing a well-manufactured steel hay barn and the saving potential outweigh the initial costs of installation. If you're looking to provide your horses or livestock with high-quality hay, a hay barn constructed by Kit Buildings Direct is a good place to start. Our hay barns maintain the quality of your hay by reducing condensation, bacteria and mould. They provide a clean environment and guarantee a dry environment for feed storage. All of our steel buildings have effective ventilation, which is key in the agricultural sector, especially in Britain.
Metal Hay Barns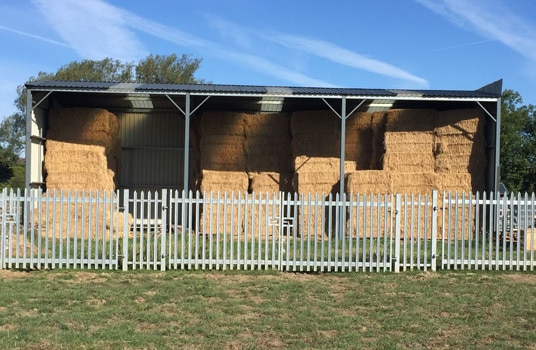 Our steel buildings design specifically for hay are low maintenance and are easily installed with minimal fuss. We use high quality steel to guarantee your building remains usable all year round and is sustainable for many years.
Advantages – At a Glance
✔ Maintains Hay Quality
✔ Reduces Condensation, Bacteria & Mould
✔ Low Maintenance & Sustainable
✔ Effective Ventilation
✔ Cleaner and Drier Environment for Hay
FAQs
Will a steel hay barn improve the quality of my hay?
If you are upgrading to a hay barn from having no cover at all then it is highly likely that a physical building will improve the quality of your hay. It is important that you store your hay in an effective way to guarantee the best results from your metal hay barn.
Do you offer installation?
Yes, we are happy to install your hay barn for you.
Can you provide hay barns in kit form?
Yes, if you would prefer to build the hay barn yourself we are happy to offer a manufacture and deliver or manufacture and collection service without the need to have installation completed by us.
Are hay barns easy to install?
When installed by a professional who understands building instructions and GA drawings it is extremely easy and stress free to install a hay barn.
Do you have any advice on how to efficiently store hay?
Yes, you can read our horse hay storage blog for advice: 6 Tips – Practical Horse Hay Storage