Steel Hay Barns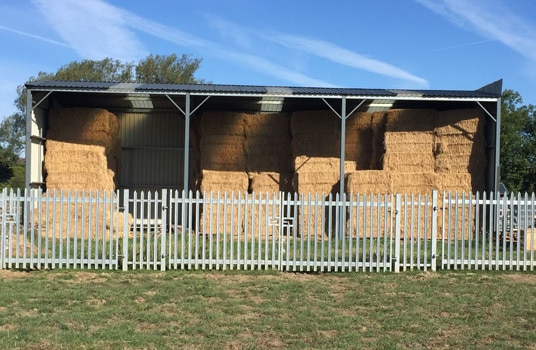 Whether you grow your own or purchase in bulk, protecting your straw or hay from moisture, mould and bacteria is important for maintaining the quality of your stock and avoiding loss or damage. Offering you a safe, secure storage solution for your hay or straw, our freestanding hay barns can be installed as a basic roof on legs structure or tailored to a design that best meets your needs. We provide top quality steel hay barns and have been doing so since 1974.
Designed specifically to be well-ventilated and easy to keep clean and well organised; our team of experts takes the time to fully assess your storage requirements so that each one of our hay barns we construct ensures that your hay or straw is safely and effectively stored and protects from the elements.
All steelwork is manufactured to CE Marking standards at our workshop in Derby and can be painted or galvanised with either fibre cement roof or 0.7mmth box profile metal sheeting.