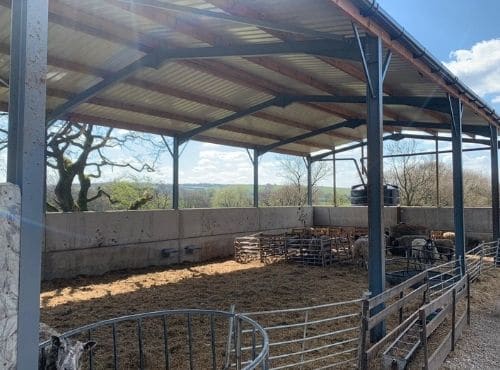 Roof on Legs agricultural Structure in Kit Form being 30'-0" Span x 60'-0" Long in 4 No 15'-0" Bays x 4m long columns.
Roof lights and gable stanchions are an optional extra. Please enquire for a price.
Specification
This Structure will be designed to a full Agricultural Class II BS 5502 Specification. Manufactured in accordance with EN: 1090 Execution Class 1.
Drawings
This quotation includes for all Fabrication, Cladding and Foundation Plans.
Steelwork
All steelwork will receive 1 No Coat of High Build Phosphate Grey Oxide Paint prior to delivery. A small of touch up will be included in your delivery.
Steel Components
10 No Main Stanchions. 178 x 102 x 19
10 No Main Portal Rafters @ 10 Deg Roof Pitch. 178 x 102 x 19
2 No Diagonal Roof Bracings in Box Section. 70 x 70 Box
16 No Angle Knee Bracings. 50 x 50 Angle
10 No Amount of Various Thickness Packer Plates
2No, Gable Hangers and brace.
Bolts
We have allowed all high tensile zinc plated structural steel bolts washers and nuts.
Foundation bolts
Not included
Purlins
15'-0" Bays – 2 No Lines of 3 x 8 Treated timber eaves beams and 6 No Lines of 3 x 7 Treated Timber Purlins
Timber Eaves Beams
We have allowed 2 No Lines of 3 x 8 Treated timber eaves beams Secured at the stanchion top acting as a support for the roof and vertical cladding.
Roof Cladding
0.7th Polyester coated single skin box profile steel sheeting colour to be Juniper Green complete with a ridge capping. Barge boards not included.
Gamble Cladding
.5th Polyester sheeting clad square to eaves only to both gables.
PVC Rainwaters Goods
2 No Lines of 170mm Half Round Hunter Deep Flow Black PVC Guttering running down the eaves to both sides of the building. Fixed to a gutter facia at 1.000 crs complete with 2 No 110 Dia Rain Water Pipes per run terminating at floor level.
BUILDING SUPPLIED IN KIT FORM Erection
A quote can be provided if requested.
Collection
Can be arranged
Delievery
Available on Request
---
GET IN TOUCH
For more information or to order your kit building today get in touch and a member of our team will be happy to help.