6 Tips – Practical Horse Hay Storage
Horse Hay storage is integral when it comes to ensuring your horses get the best quality feed that they can. Poorly stored hay can have an impact on the nutritional value of the hay and can also have a negative effect on your horses overall well being. Whilst it is of paramount importance that you have a well-ventilated hay barn that also keeps hay dry during wet weather periods, there are a number of other practises that should be used to effectively store your hay.
This blog provides 6 horse hay storage tips to ensure your horses are getting the very best hay available for them.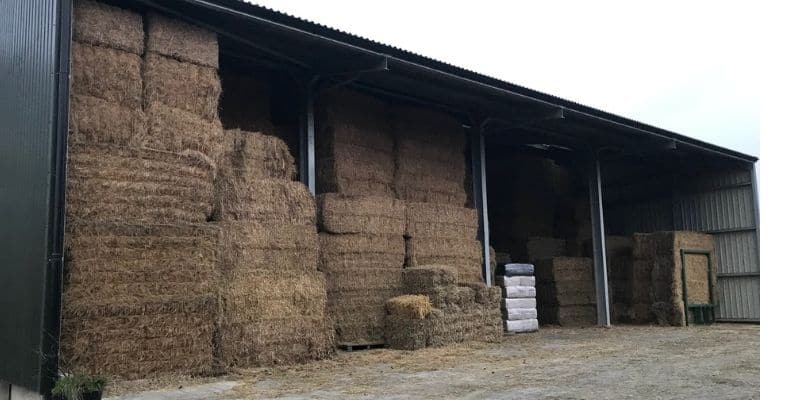 In summary, the blog recommends that you:

1. Store hay away from your horses
2. Store hay on pallets
3. Safely stack hay to maximise air circulation
4. Remove any mouldy hay
5. Keep hay protected
6. Continuously rotate hay stock

If you are looking to maximise your hay all year round, you really need a high-quality hay barn. Kit Buildings Direct manufactures steel hay barns, and professionally install them to ensure you benefit from a well-ventilated building. For more information, contact us on 01283 735 522.
1. Store Hay Away From Horses
Whilst it has been a long tradition to store hay in the loft above the horses, this has now proven to be an unsafe horse hay storage option due to hay being highly flammable. If a hay bale was to mould internally it could potentially heat up to a temperature that could cause combustion which is extremely dangerous for your horses. Plus hay is extremely dusty, which can create respiratory problems for horses if stored in close proximity to the horses. With this in mind, it is highly advisable that you invest in a separate building for your hay storage to avoid fires and accidents occurring in the same building that your horses occupy. If a separate building is not an option for you, it is recommended that you store your hay outside, ensuring you safely cover and protect the hay from rain and excessive sunlight.
2. Store Hay On A Pallet
Whether you're storing inside, or outside using pallets for storage is a good idea. This will provide elevation, taking the hay away from the ground. The advantage of this is that any water that falls on the hay will drain away from the bales. Further, the pallets provide airflow underneath which will help keep the hay bales dry and fresh. By elevating your hay, you avoid your hay being affected by moisture from the ground. This will help prevent mould and will keep your hay nutritious for your horses.
3. Safely Stack Hay For Air Circulation
The way we stack hay has a big impact on how well kept hay remains throughout the month. There are different shaped and sized hay, so the way you stack dependents on the type of hay bail that you are using. The way we stack also has an impact on how effectively air is circulated around the hay. If hay does not benefit from effective air circulation, there is a real risk that moisture can cause spontaneous combustion.

For Large Square Stacks
Start with the widest bales
Add more narrow bales as you stack
Alternate layers, creating a clear overlap of approximately half a bale around the stack
Do not stack any hay that is 1.5x higher than the base
Avoid stacking more than ten bales on concrete or hard standing ground
For Small Square Stacks
Start with the widest bales
Add narrow bales as you stack
Interlock with alternative layers
Add bales like brickwork, creating a lock between each bale
For Round Bales
Stack bales in a pyramid shape
Stack bales on their sides. Not their ends
Apply stakes to outside bales to keep them in position
Overlap layers by around half a bale
4. Remove Mouldy Hay
Hay moulds when a bale draws in too much moisture. This is a result of hay bales that are not getting enough air circulation throughout the day. Poorly designed barns often have a negative effect on hay bales and they cause poor air drainage and a lack of ventilation which puts hay at risk of becoming mouldy. If you find that you have any mouldy hay in your storage, remove it immediately. After, inspect your storage location to ensure that there is not an issue that will result in hay moulding in the future.
Before you purchase hay bales, it is worth checking that there is no moisture or heat already inside. If there is moisture and heat, you could be affected by moulding in the near future – therefore it is recommended that you do not purchase the hay bale.
Alway purchase hay from a producer that can prove their hay is of the highest quality.
5. Keep Hay Protected
It goes without saying, but the best way for your hay to remain nutritious is to keep it protected. The ideal solution is to keep your hay in a hay barn that has proper ventilation and does not suffer from issues such as a leaking roof. If this isn't an option, you can store your hay outside, but it is important that you keep the hay dry. This can be done by using appropriate cover and also making sure the hay is sufficiently protected from ground moisture. This can be done by placing the hay on a bed of gravel, using old tyres or using pallets. It is important that a waterproof layer is used when storing outside.

6. Hay Storage Rotation
It is always best to rotate your hay so that the most recently purchased is positioned at the back (or bottom when stacking). This means that hay you have had for longer will be consumed before it becomes mouldy and unusable. By doing this, you will minimise hay wastage. You will also protect newer hay from contamination, as older hay will be used and removed from storage before it becomes a problem.
We recommend that you store your hay in a well-manufactured steel hay barn.
Whilst a proper indoor hay storage solution may cost more upfront than outdoor storage options, the overall savings when you consider hay wastage will, over time, result in large savings. Further, your horses and other livestock that feeds on the hay will benefit from hay that has been stored effectively. Kit Buildings Direct supply and install high-quality hay barns. To learn more about how hay barns could improve your horse hay storage, contact us on 01283 735 522 now.