6 Top Tips for Practical Horse Hay Storage
Horse hay storage is of the utmost importance when maintaining the quality of a bale. So it is vital that you know about correct hay protection methods to uphold its nutritional value.
We will discuss in this blog how improper horse hay storage can impact your hay and how to prevent deterioration effectively.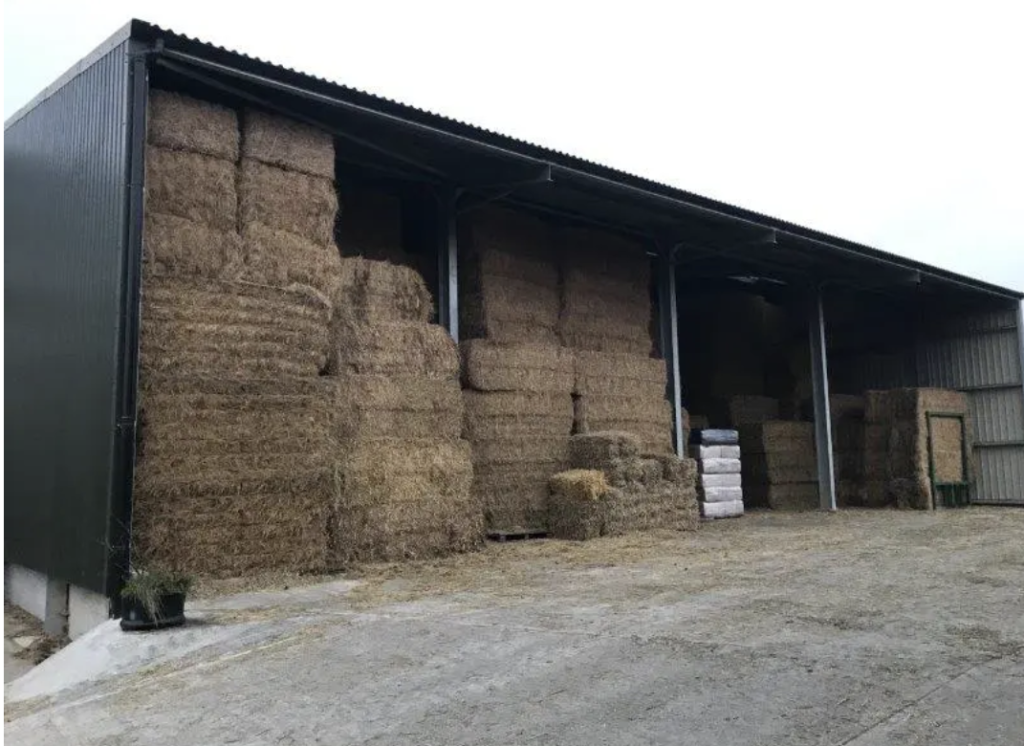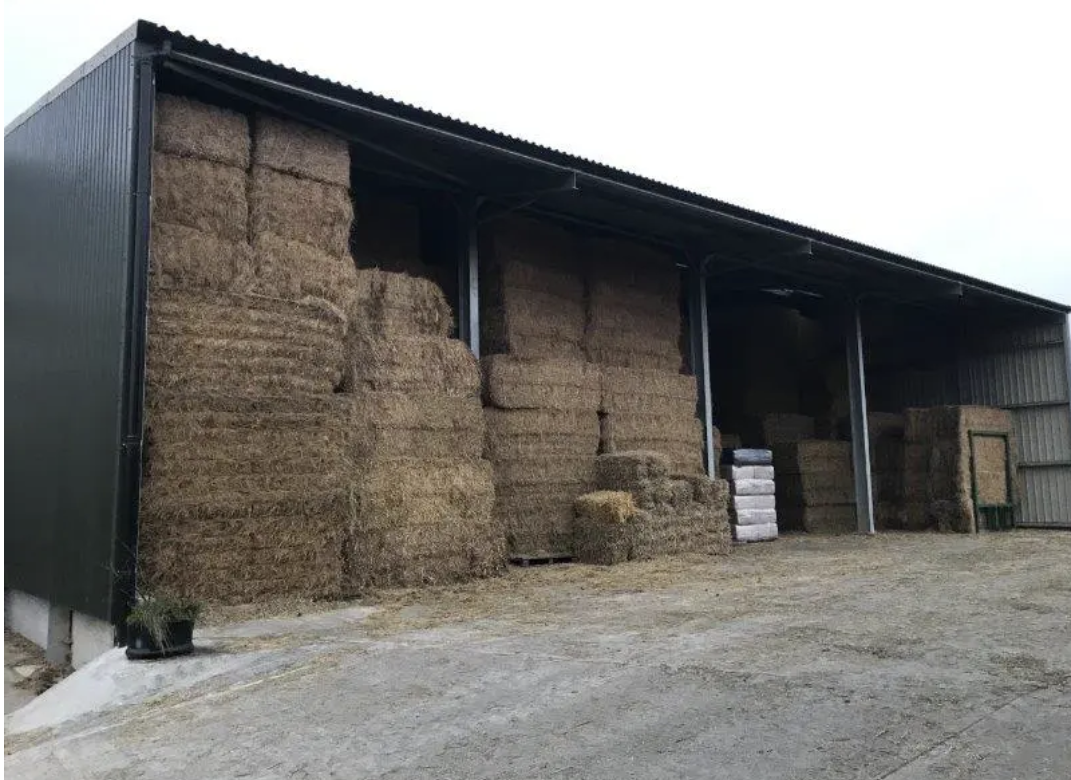 1. Store Hay Away From Horses
Although it is traditional for horse hay storage to be in a loft above your horses, this method is outdated. Hay is highly flammable and very dusty. The dust that falls from your hay can cause respiratory issues in your horses and impact their health long-term.
So, rather than storing your hay above your horses, we recommend you invest in a separate building for hay storage to avoid fires and health problems.
If constructing a separate building is not feasible, your hay will be safer placed outside. But you will need to employ some hay protection to prevent water ingress that could lead to moulding and excessive sunlight to avoid fires.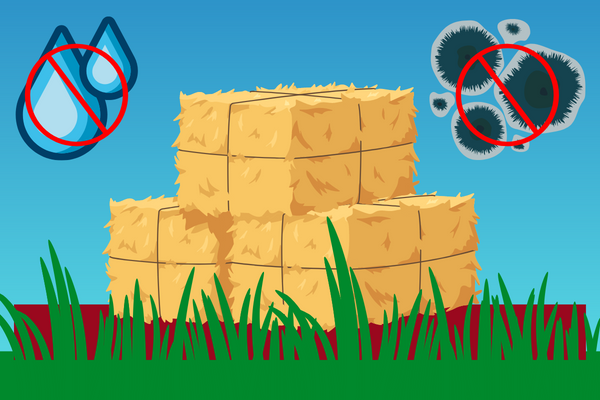 2. Store Hay On A Pallet
Whether you're storing inside or outside, using pallets for horse hay storage is a good idea.
Pallets provide elevation that causes any water that falls on the hay to drain away and prevent mould. Furthermore, pallets provide airflow which will keep your bales dry and fresh.
Essentially, elevation is a highly effective method of hay protection. This will elongate the lifespan of your hay and keep the hay nutritious for your horses.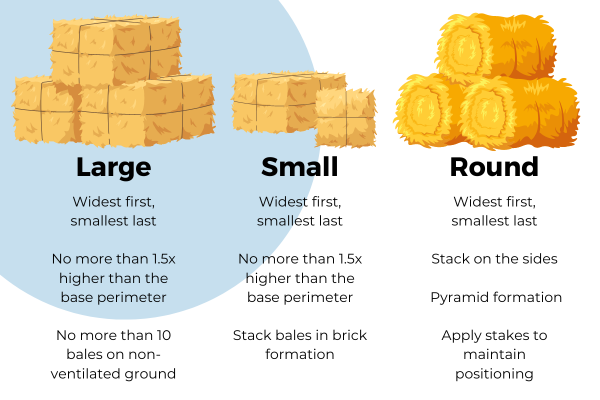 3. Safely Stack Hay For Air Circulation
The way we stack hay has a noticeable impact on hay maintenance and should be altered in line with the shape and size of your bales.
There are three standard variations of hay, large squares, small squares, and more iconic round bales. Stacking the various types correctly will help with hay maintenance by encouraging air circulation and negating the risk of spontaneous combustion.
Although the chances of hay setting alight with no explanation seem unlikely, it is a very real possibility.
Hay is prone to spontaneous combustion when hay maintenance is lacking. Improper horse hay storage can lead to a high moisture content that breeds mesophilic bacteria.
Mesophilic bacteria release heat within the hay bale that isn't ventilated enough to cool the heat which can increase to 76°C and cause spontaneous combustion.
To prevent this, stack your bales as so:
Begin with the widest bales and stack them in order of decreasing size. Do not stack hay 1.5x higher than the base, as it can tip, and avoid stacking more than ten bales on concrete or hard-standing ground.
For small square stacks, the process is almost identical, except you stack the bales like bricks to create locks between them.
Horse hay storage of round bales should always be in a pyramid shape. Bales should be stacked on their sides, not their ends, and stakes should be applied to keep them in position. The layers should be overlapped by no more than half a bale.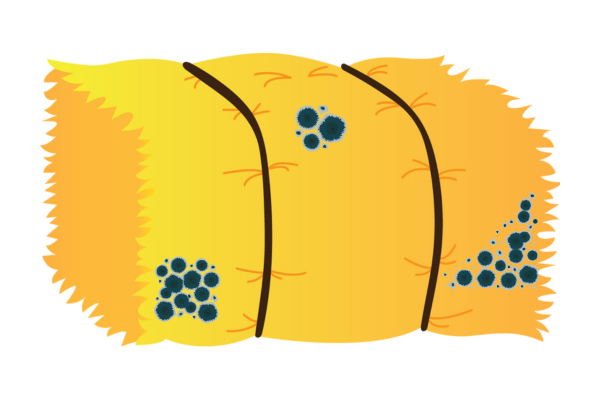 4. Remove Mouldy Hay
Hay maintenance will prevent moulding as the circulation will dry out any water before it stagnates. However, old barns will often cause moulding as they tend to be less well-ventilated than newer structures would be.
If you discover mouldy hay in your horse hay storage area, remove it immediately. It is important to determine whether the bale has moulded as a result of an ongoing issue.
If you discover there is no issue with your barn, there's a chance that the mould was already there upon purchase. In future, assess the hay bales you intend to buy for moisture and heat before purchasing.
Before you purchase hay bales, it is worth checking that there is no moisture or heat already inside. If there is moisture and heat, you could be affected by moulding soon – therefore it is recommended that you do not purchase the hay bale.
Always purchase hay from a producer that can prove their hay is of the highest quality.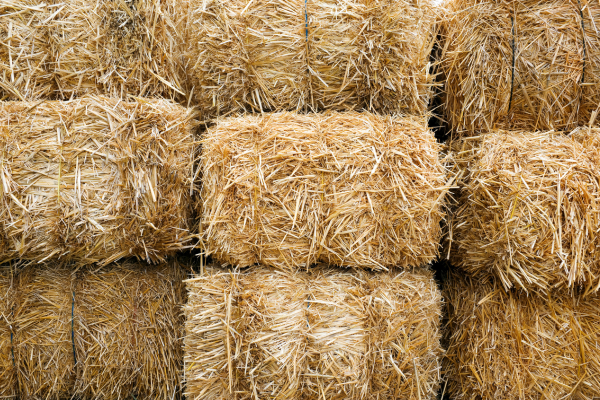 5. Hay Storage Rotation
It is always best to rotate your hay so that the most recently purchased is positioned at the back (or bottom when stacking). This means that hay you have had for longer will be consumed before it becomes mouldy and unusable. By doing this, you will minimise hay wastage. You will also protect newer hay from contamination, as older hay will be used and removed from storage before it becomes a problem.
To prevent moisture build-up and maintain air circulation, rotate your hay so the most recently purchased bale is at the bottom. This will encourage you to use the older hay before it becomes unusable and minimise wastage.
The sooner you use your older hay, the less likely contamination between old and new bales will be.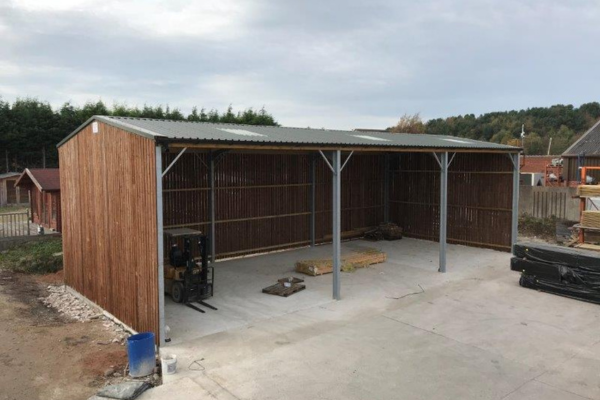 6. Store your hay in a well-manufactured steel hay barn.
Whilst a proper indoor hay storage solution may cost more upfront than outdoor storage options, your savings will prove the benefit. Unnecessary waste, potential vet bills, and the damage a lit bale could cause are more than enough reasons to build an indoor horse hay storage barn.
If you want to maximise the lifespan of your hay all year round, you need a high-quality hay barn. Fortunately, here at Kit Buildings, we supply and install high-quality horse hay storage solutions to keep your hay fresher for longer.
Contact us now to learn more about our hay protection solutions and start your journey with us!
Most Recent Articles