All You Need to Know About Steel Transportation
The history of the modern steel industry dates back to the 1850s and has become one of the most crucial elements in the worlds industrial economy. Steel is widely used across the world in the engineering, construction, energy, and packaging industries as well as many more. Steel as a material is durable, versatile, and of great quality. Overtime, the demand for steel and its products has steadily increased and as a result, so has the importance of efficient and successful steel transportation.
How is Steel Transported?
There are many different methods associated with the transportation of steel and which is used will vary with each job, depending entirely on what form the steel is in and the size of it. Steel transportation requires specialist equipment and training to ensure the material reaches its destination safely on time. The whole operation demands a lot of care, attention, and precision because without, the chance of an accident increases significantly.
Railway
The oldest and most traditional method of metal transportation across long distances is by train. Railways played a crucial role in transporting steel during rapid industrialisation and helped in the development of many of the world's leading industries. Fast forward to now, railway is still an essential part of the construction industry and is known for being effective in the transportation of steel around the world. The advantages of railway steel transportation include high delivery speeds, the ability to handle any cargo, and broad geographic reach.
Trucks
The most universal vehicle used to transport steel from one destination to another are freight trucks. Road transportation does not have to revolve around the timetables found in train stations, airports, and ports which means that this method of operation can be carried out around the clock. Trucks can either be loaded directly with steel or fitted with flatbeds or containers which helps to keep steel secure and in the best condition. Many steel transportation companies have large fleets of trucks which comes with a number of advantages like door-to-door delivery, cost-effective for shorter distances, and easy to predict timings.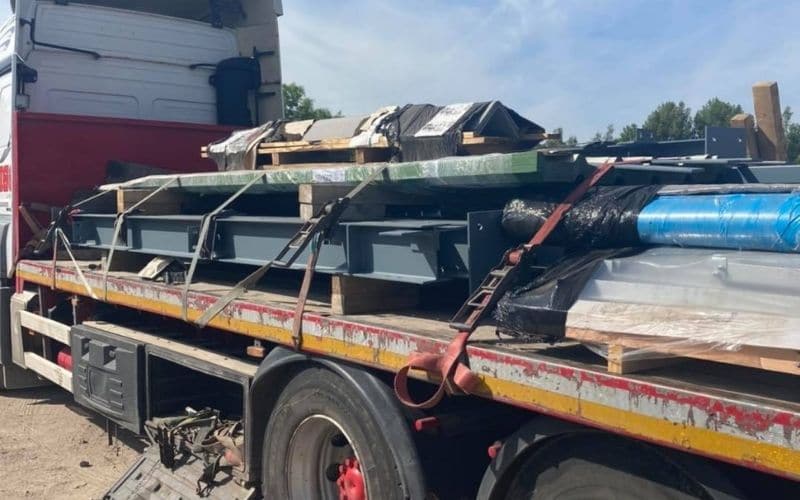 Shipping
Shipping is an extremely effective way of internationally transporting steel around the world. Due to the efficiency of this method, especially when in bulk, this is the primary option for the transportation of steel overseas. The huge capacity onboard enables ships to carry millions of tonnes of cargo without compromising on quality and as a result, plays a significant role in keeping the world's supply of steel consistent. Other advantages of shipping include simple customs procedures, full and partial container loading, and low running costs.
Air
The transportation of steel by air is the most expensive method but is also the quickest. Cargo aircrafts have a huge capacity which means that bulk journeys across long distances are actually relatively cost efficient. Advantages of metal transportation by air include broad geographical range, full cargo service at airports, and the ability to transport oversized cargo.
Forklifts
Forklifts are great for steel transportation on a small scale. Designed specifically to move cargo around small areas like warehouses and industrial spaces, forklifts are able to transport steel safely and effectively. Advantages of using forklifts to move steel include removes the need for manual lifting, increased safety, and improved cost effectiveness.
Having an efficient method of transporting heavy materials like steel is crucial to a wide selection of industries. By exploring the main modes of steel transport, it is easier to identify the best option for you. If you have any questions or require further information regarding the steel we use here at Kit Buildings Direct, please do not hesitate to get in touch!