Top 5 Famous Steel Landmarks in the World
Steel, with fantastic strength and versatility, has played a leading role in shaping modern architecture and engineering. Broadly speaking, it is a material that has allowed us to build phenomenal landmarks that stand as testaments to human innovation and creativity. 
As a leading supplier of steel buildings in the UK, we, more than most, understand the capabilities and unique properties of steel.
Today, we at Kit Buildings Direct want to show our appreciation for this fantastic product. We are doing this by exploring five of the world's most famous steel landmarks, each a prime example of steel's versatility and durability. Continue below for more information. 
Famous Steel Sculptures: Our Picks
Some of the world's most famous monuments were constructed using steel, from the tallest skyscrapers to the smallest steel sculptures. As a business that is largely driven by the supply of steel structures, we have included our favourite examples below.
Designed by Gustave Eiffel for the 1889 World's Fair, the Eiffel Tower is one of the most famous steel structures of all time. 
Recognised around the world, the Eiffel Tower is both a testament to architectural excellence and a symbol of French culture. Below are some interesting facts about the monument.
This lattice steel tower, reaching a height of 1,063 feet, was, and still is, a marvel of engineering. It was built using an estimated 18,000 individual iron pieces and held together by 2.5 million rivets.
Believe it or not, the tower initially drew criticism and was intended to be a temporary structure. This soon dissipated as its cultural importance was recognised.
It is visited millions of times each year from tourists all over the world, who climb the structure and enjoy panoramic views of Paris.
This suspension bridge, completed in 1937 and measuring 1.7 miles in length, not only serves as a transportation link but is also an awe-inspiring piece of art.
The bridge's iconic and unique orange colour was chosen for its visibility in the frequent fog which descends on San Francisco.
When the bridge was completed, it was the longest suspension bridge in the world.
The bridge is a testament to engineering excellence. This is especially true if you consider the complications that occurred during construction, such as strong tides and seismic activity.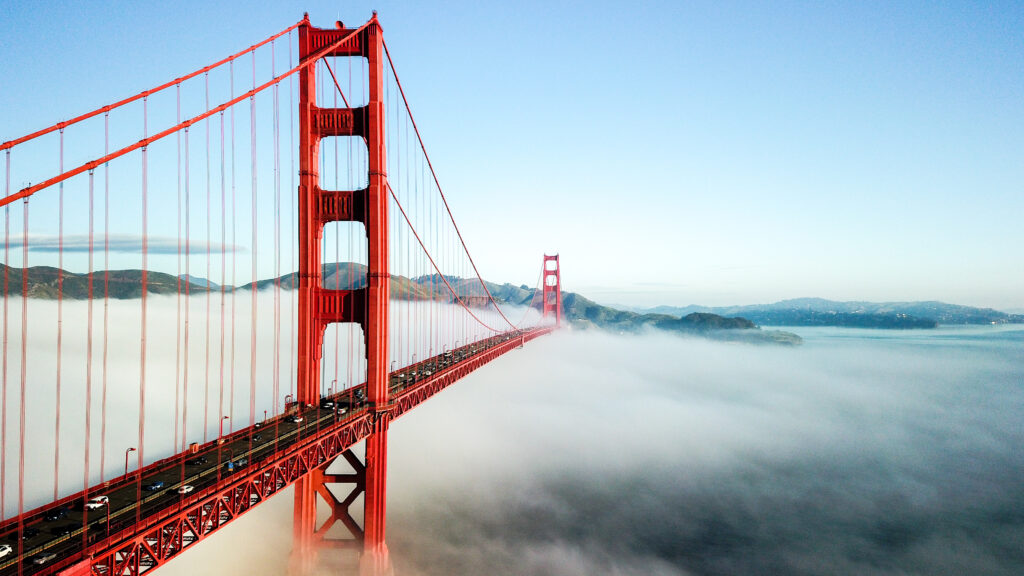 Sydney Harbour Bridge, Australia
Completed a few years before the above example, in 1932, Sydney Harbour Bridge serves as both a transportation link and an iconic Australian landmark.
The bridge is nicknamed 'The Coathanger' because of its unusual arch shape. It is one of the world's largest tall metal structures.
Visitors are allowed to ascend the arch to enjoy phenomenal views of surrounding Sydney.
Interestingly, the bridge plays a key role in Sydney's New Year's Eve celebrations. A spectacular fireworks display takes place each year.
The Brooklyn Bridge, completed in 1883, is one of the most iconic bridges in the world. It connects Manhattan and Brooklyn and has been a symbol of innovation for over a century.
Neo-Gothic design was the choice by father and son team John A. Roebling and Washington Roebling. This was thought to be both elegant and lasting.
The bridge played a significant role in connecting the two boroughs of New York City, facilitating economic growth and urban development.
Featured on the bridge is a much loved pedestrian and bicycle path that offers stunning views of the Manhattan skyline.
Opened in 2004, The Millau Viaduct is a modern marvel of engineering and represents the capabilities of steel in contemporary architecture. 
The viaduct reaches a height of 1,125 feet and has a total length of 8,071 feet. It is the tallest bridge in the world and one of the longest cable-stayed bridges.
The bridge's sleek and elegant design cements it as one of the greatest engineering achievements of the 21st century.
The Millau Viaduct has become a popular tourist attraction, with visitors coming to admire its architectural beauty and breathtaking views.
Kit Buildings Direct: Your UK Based Leading Steel Building Supplier
These famous steel landmarks are not just structures: they are testaments to innovation and the boundless possibilities of engineering.
From the Eiffel Tower's universally recognised elegance to the Millau Viaduct's grand scale, these steel landmarks continue to inspire awe and enrich national culture around the world.
For those of you with an interest in manipulating steel on a commercial scale, we encourage you to contact the team. With years of experience in steel frame building, we are available on a practical and consultative basis to assist you. 
Visit our contact page today and request a quote. A member of our team will process your request and contact you at the earliest opportunity.