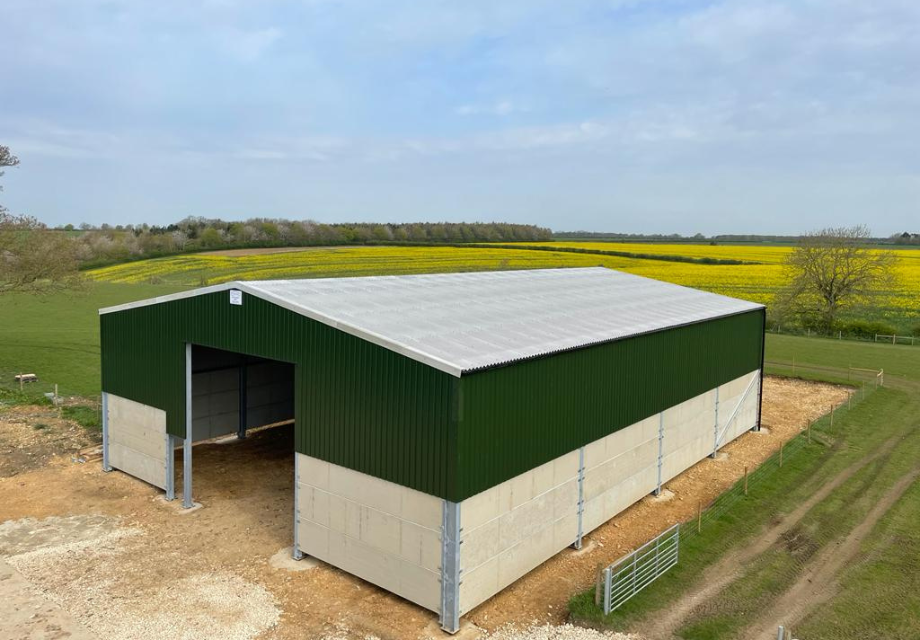 Top 4 Advantages of Steel Buildings
The advantages of steel buildings are multitudinous, which is why they're being used increasingly in the agricultural sector.
But what are the benefits of steel buildings? And where can you find affordable but high-quality steel farm buildings?
Whether you intend to install steel agricultural buildings on your farm for produce storage, as facilities for your equine animals, or more, steel frame buildings are the durable, protective, and long-lasting solution you need. So, let's delve into the advantages of steel structures.
.
.
Longevity
One of the greatest advantages of using steel for your farm buildings is that it provides enhanced durability over other types of materials.
The type of steel used to make agricultural steel frame buildings is alloy steel, which can boast almost double the tensile strength of carbon steel.
Steel is already regarded as the second strongest and most often used type of metal globally. But steel alloys used to manufacture steel agricultural buildings take it a step further.
Steel alloys are made by combining iron, carbon, manganese, sulphur, oxygen phosphorus, silicon and steel.
These elements combine to form the long-lasting construction material used to manufacture steel farm buildings.
Steel is water-resistant but not waterproof. Steel alloys do corrode over time, but this eventuality can be combated with specially designed epoxy paint, which protects the steel against oxidisation.
.
Resistant to the Elements
Another of the benefits of steel buildings is their resistance to damage from harsh weather conditions and fire. Sometimes, accidents happen and fires can start and wreak irreversible damage to buildings made of traditional materials.
Fortunately, steel buildings don't often meet the same fate.
Steel is impressively fire-resistant, and can withstand high temperatures for long periods without warping. Compared to other metals and construction materials, steel is very preferable for this reason.
A further benefit of steel is that it is not flammable. So in the unlikely event that your steel farm buildings catch light, the fire will be within the confines of your building and not spread to the surrounding areas.
Concerning weather resistance, alloy steel is designed to be naturally resistant to up to 120mph winds, heavy snow, and level 4 earthquakes.
Although it is unlikely that we'll experience snow and level 4 earthquakes in the UK, being able to withstand high winds will be beneficial.
.
Low Maintenance Requirements
Perhaps the most useful advantages of steel structures, especially if your farm is busy, is the low maintenance requirements they have to stay in top condition.
Steel agricultural buildings aren't susceptible to rusting, especially when coated with epoxy. And even if you do choose to cover your building with epoxy paint, it can last for 5-10 years depending on the conditions it is exposed to.
Furthermore, agricultural steel frame buildings don't split, warp or crack. So you won't have to worry about hiring an inspector to regularly assess your building.
However, you should ensure your building is checked over thoroughly after installation to ensure the foundations and joinings are robust and provide optimal stability.
Lastly, pests can't penetrate steel structures in the same way they can with wood. So your building won't be subject to consumption or penetration by termites and other invasive pests.
.
Affordability
A great advantage of using steel for your agricultural buildings is the cost. Steel is far easier to produce and customise than wood, not to mention much easier to install.
Because of this, the cost of your building materials and the labour required to build your agricultural steel frame buildings will be comparatively less.
.
How can Kit Buildings Direct Help?
Here at Kit Buildings Direct, we design and install bespoke agricultural steel frame buildings for clients across the UK. Whether you require a storage building, equine housing, a barn, or otherwise, we can help.
Contact us now to receive a free quote for your steel agricultural buildings.