Case Study –

Asphalt Storage Building
Recently, we at Kit Buildings Direct were contracted to install a farm storage building for asphalt by an existing customer. The customer's request for a new asphalt farm storage building included an attached lean-to to act as a loading bay. We provided the customer with a complete design plan along with their quote before we began installation. This design plan included a detailed GA Drawing (General Arrangement Drawing) to represent the scope of the storage building.
Project GA Drawings can be viewed below
We managed this project from the design phase through to the erection on site.

Asphalt Farm Storage Building Specification
This storage building was BS 5950-compliant and measured 23.000 feet long by 14.000 feet wide. The building included Galvanised Zed Eaves beams, purlins and rails, two non-fire exit doors, and an efficient ventilation system.
Width: 14.000 feet
Length: 23.000 feet.
5.750 Bays x 4.500 eaves
Full Industrial BS 5950 Specification
Galvanised Zed Eaves beams, purlins and rails
0.7mmth plastic-coated box-profile roof sheeting, goosewing grey-coloured, non-drip profile, single-skin roof lights
0.5mmth plastic-coated box-profile side-sheeting, blue-clad coloured slate down to finished floor level
One 170mm half-round hunter, deep flow, and black PVC guttering running down the eaves to both sides of the building. All fixed to a gutter fascia at 1.000 CRS complete with one no.110 Dia rainwater pipe per run, terminating at floor level.
Two non-fire exit doors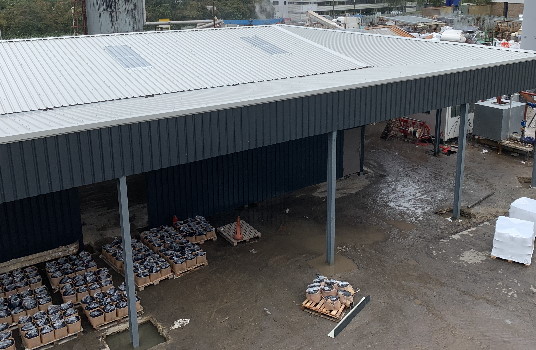 Lean-to loading bay Specification
To complement the Asphalt farm storage building, a 5.000 feet wide lean-to loading bay was added. The lean-to was manufactured under EN: 1090 Execution Class 2 and meets BS5950 specifications. The complete specifications list included:
Width: 5.000-4.500 on the low side, 5.000 on the high side, forming an L shape around the existing building on one side
One gable-end 23.000 feet in length and 14.000 feet in width
Full Industrial BS 5950 Specification
Manufactured following EN: 1090 Execution Class 2.
Galvanised Zed Eaves beams and purlins.
0.7mmth plastic-coated box-profile roof-sheeting.
Non-drip goosewing grey-coloured profile with single-skin roof lights
5th Plastisol-coated single-skin box-profile steel sheeting, one metre below the Eaves.
One non-run, 18.750m and one non-run, 28m (considering the tapered bay)
Three non-runs of Galvanised Steel Valley Gutter. Complete with all sealants, nuts and bolts.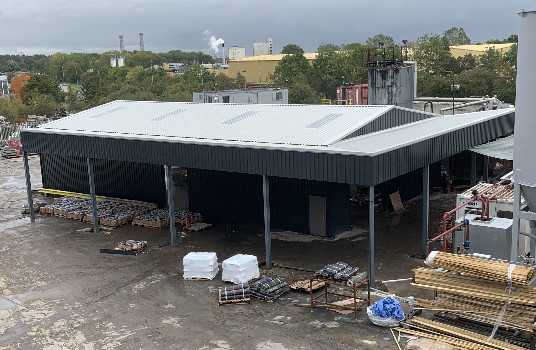 What is Asphalt?
Asphalt is a sticky, black, and highly viscous liquid or semi-solid form of petroleum.
What is Asphalt used for?
Asphalt is used primarily for road construction as glue or binder. It is mixed with aggregate particles to create asphalt concrete. Its water-resistant properties also make asphalt an ideal roofing material.
How Should Asphalt be Stored?
Whilst asphalt is petroleum-based and thus capable of withstanding high temperatures, it is best to store asphalt-based products in a cool environment no higher than 32-35 degrees Celsius. If asphalt is stored in temperatures higher than this, it may soften and become less durable as a result.
Why are our steel storage buildings suitable for storing Asphalt based products?
Our steel buildings are designed to include effective ventilation. So we can guarantee the internal environment of the farm storage building remains dry and maintains an ambient temperature suitable for specific applications.
Ready for a free quote?
If you require a steel storage building to safely store commodities or equipment, contact us today. Every building we quote is complete with a complete design plan to ensure you are 100% happy before the installation goes ahead. We manufacture and install steel farm storage buildings, and offer kits for you to install the building yourself!
Please don't hesitate to contact us directly through the website for more information. You can also request a free quote online! If you'd prefer to speak to someone on the phone, our highly experienced sales team can help by calling 01283 735 522. We look forward to hearing from you.