Case Study –

Asphalt Storage Building
Recently Kit Buildings Direct was contacted by one of our existing customers who required a new storage building to store asphalt fittings for the roofing trade. Their request for a new Asphalt storage building also included an attached lean-to to act as a loading bay. As with all of our buildings, we provided a full design plan with their quote before the installation went ahead. All design plans provided by us include a detailed GA Drawing (General Arrangement Drawing).
Project GA Drawings can be viewed below
We managed this project from the beginning to the very end. From the design through to the erection on site.

Asphalt Storage Building Specification
Kit Buildings Direct manufactured and installed a BS 5950 compliant Asphalt storage building that is 23.000 feet long by 14.000 feet wide. The building includes Galvanised zed eaves beams, purlins and rails. The building also has 2 x no fire exit doors installed and has been designed to ensure effective ventilation is present within the building at all times. More details and features can be seen below.
Width: 14.000 feet
Length: 23.000 feet
5.750 Bays x 4.500 to eaves
Full Industrial BS 5950 Specification
Galvanised zed eaves beams, purlins and rails
0.7mmth plastic-coated box profile roof sheeting – none drip profile coloured goosewing grey with single skin roof lights
0.5mmth plastic-coated box profile side sheeting – coloured slate blue-clad down to finished floor level
1 x No Line of 170mm Half Round Hunter Deep Flow Black PVC Guttering running down the eaves to both sides of the building. Fixed to a gutter facia at 1.000 CRS complete with 1 x No 110 Dia Rain Water Pipe per run terminating at floor level.
2 x No fire exit doors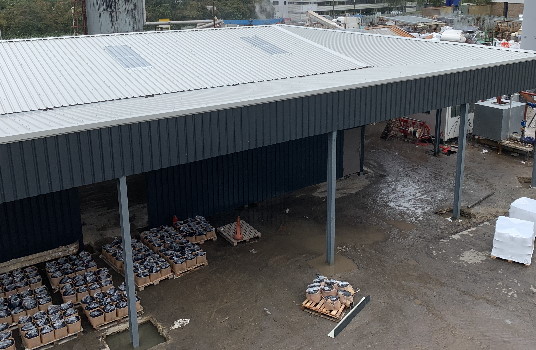 Lean-to loading bay Specification
To complement the Asphalt storage building, a 5.000 feet wide lean-to loading bay was added. The lean-to was manufactured in accordance with EN: 1090 Execution Class 2 and meets BS5950 specification. Full specifications list and features can be viewed below.
Width: 5.000 – 4.500 at the low side and 5.000 high side forming a L shape around the existing building on one side and one gable end being 23.000 feet in length and 14.000 feet in width.
Full Industrial BS 5950 Specification
Manufactured in accordance with EN: 1090 Execution Class 2.
Galvanised zed eaves beams and purlins.
0.7mmth plastic-coated box profile roof sheeting – none drip profile coloured goosewing grey with single skin roof lights
5th Plastisol coated single skin box profile steel sheeting 1m below eaves – 1 x No 18.750 run and 1 x No 28m run (taking into consideration the tapered bay)
Supply 3 x No Runs of Galvanised Steel Valley Gutter. Complete with all sealants, nuts and bolts.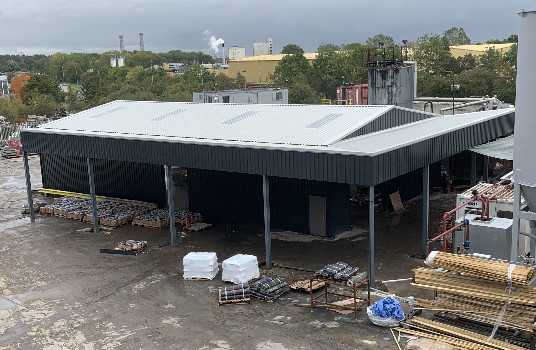 What is Asphalt?
Asphalt is a sticky, black, and highly viscous liquid or semi-solid form of petroleum.
What is Asphalt used for?
Asphalt is mainly used for road construction and is used as the glue or binder. It is mixed with aggregate particles to create asphalt concrete. Asphalt is also used for waterproofing roofing.

How Should Asphalt be Stored?
Whilst Asphalt is petroleum-based and thus capable of withstanding high temperatures, it is best to store Asphalt based products in a cool environment no higher than 32-35 degrees. If asphalt is stored in temperatures higher than this, there is a risk of the product softening and becoming more susceptible to damage.

Why are our steel kit buildings suitable for storing Asphalt based products?
Our steel buildings are designed to include effective ventilation to ensure internal environments remain dry and maintain an ambient temperature suitable for specific applications. As our buildings are efficiently designed, we can guarantee that our buildings will maintain a required temperature for specialised storage such as Asphalt storage.
Ready for a free quote?
If you require a steel storage building for the safe storage of commodities or equipment, contact us today. Every building we quote is complete with a full design plan to ensure you are 100% happy before the installation goes ahead. We are able to manufacture and install your steel building. We also offer steel buildings in kit form and have buy now kit buildings available to purchase today.
Please feel free to contact us directly through the website for more information. You can also request a free quote online using our easy to use fill-in-form. If you'd prefer to speak to someone on the phone, our highly experienced sales team can help by calling 01283 735 522. We look forward to hearing from you.