What is Cladding
and Why is it Used on Buildings?
What is Classing?
When it comes to the design and construction of a steel framed building, it may be decided that it would be best to add cladding to the building for multiple reasons. On occasions, we find that some of our customers are unfamiliar with the term cladding and are not 100% sure what this means.

Cladding Definition
In short, cladding is a material that is added to the outside of a building. This can be to improve aesthetic appearance and to improve the efficiency of the building by helping to insulate the inside. Typically, cladding does not affect the structural integrity of the building and is primarily added as an external surface.
Cladding Example
An easy way to explain cladding is to think about standard UK homes. Some homes will simply be brick. The brick, or sometimes referred to as masonry wall, is the actual structural foundation of the building. So this is not cladding and is, in fact, the material used to construct the building. However, if we think about houses where you are unable to see the brick and instead see a smooth, or rough surface, these will have had rendering applied to the external wall. This rendering is a form of cladding. This has no impact on the structural stability of the building, but it will protect the brick from wet weather and other elements associated with the outside world.
Benefits of Adding Cladding to a Building
By adding cladding to a building you provide integral materials with a skin. This creates a protective layer between the structure of the building and the elements. In some building applications, by adding cladding you can improve the thermal insulation of the building, as it allows middle insulation to be added between the inner section of the building structure and the cladding.
Adding cladding is also beneficial for internal protection. The cladding will act as a protective layer that stops internal materials such as steel from issues such as rust.
Other reasons cladding is needed for buildings is to
Provide Climate Control for Internal Environments
Protect the Building from Outside Elements
Provide Extra Privacy and Security
Reduce Sound Exposure Inside the Building
Improve Aesthetic Appearance
What Materials Can be Used for Cladding
There are many types of materials that can be used for cladding, and what is used on your building is completely dependent on various factors including the weather in the area, what is living or being stored in the building.
Below are a few key examples of materials that are used for cladding. As we manufacture buildings for the agricultural and industrial sector, we primarily use wood or metal materials for cladding. However, some buildings can have cladding with other types of materials including
Brick
Tile
Stone
Concrete
Glass
uPVC
The main types of cladding that Kit Buildings Direct use is wood cladding and metal cladding. Both are very efficient materials but are best suited to different applications.
Wood Cladding
Throughout our years of experience, we have installed many agricultural buildings with wood cladding. Wood, or often referred to as timber cladding provides a traditional aesthetic that is both beautiful and in keeping with the agricultural scene. Wood allows the building owner to choose a variety of colours and tones that can remain in keeping with other buildings close by.
Apart from appearance, wood cladding has a number of benefits. To start with, wood is a very versatile material and is easily available. It can be easily resized and reshaped to fit the profile of the building. Wood has been trusted for hundreds of years, and it is clear why. With easy maintenance and the ability to treat it so that it can withstand weather conditions, it is a reliable material that rarely disappoints.
Further to these points, wood cladding is also an environmentally friendly material to use and is naturally renewable and 100% recyclable. Wood is also a very efficient material and has a far better thermal conductivity than other materials, which makes it ideal for livestock buildings, cattle buildings and stable buildings.

On top of these benefits, wood is a very cost-effective material to use for cladding and can be purchased at bulk prices for the construction of large buildings. We are happy to install wood cladding for steel buildings and can advise you as to whether wood is the best material to add as cladding for your new kit buildings.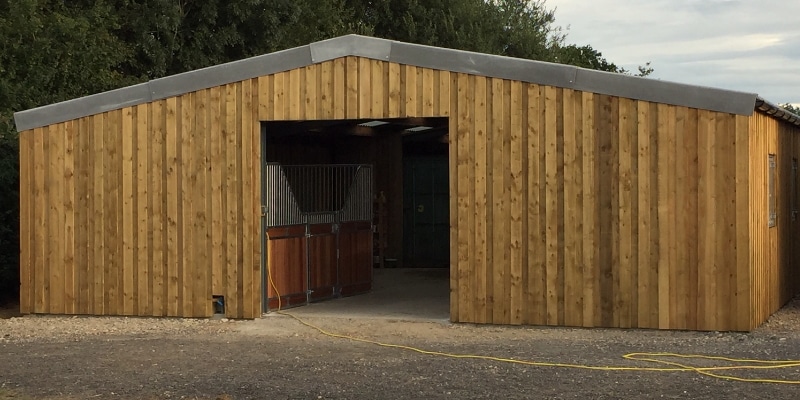 Metal Cladding
Metal cladding offers cost-effectiveness, quick manufacturing and easy installation. Whilst it may not be as aesthetically pleasing as wood cladding, it is far better suited to commercial buildings. You may have recognised warehouse buildings and storage buildings that have metal cladding. The metal sits as a sheet over the under layer and provides extra protection for the structure of the building. You will find that most metal cladding that is available is steel. The steel will be galvanised to add extra protection from stains and rust.
Whilst metal cladding does not offer the same visual appeal as wood, you can get different colour metal cladding sheets which will improve the outside appearance.
Metal cladding sheets are very durable which is why they are a preferred material for industrial applications. Kit Buildings Direct has the skills and experience to provide you with a building that is perfectly constructed with add ons such as metal cladding.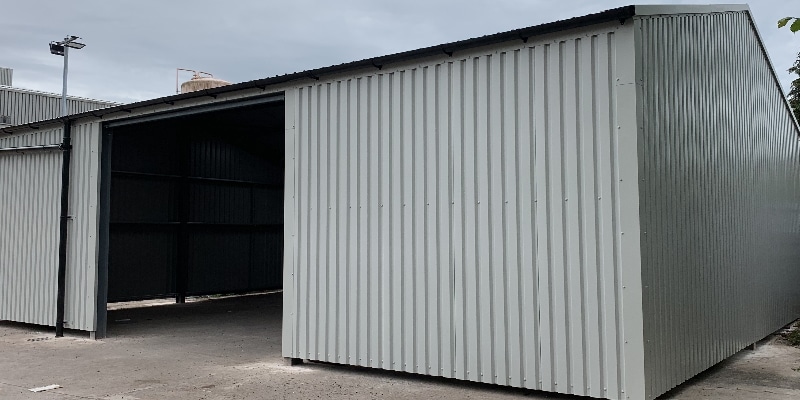 Choosing the Best Cladding for Your Requirements
When designing and planning your new steel framed building, we will consider all aspects before deciding on cladding for your building. We will consider the conditions that the building will be positioned in and will also think about what will be inside the building. With years of experience in our respective field, we have the knowledge and expertise to ensure your building is fully protected from the best cladding for your requirements. During the free quote stage, we are happy to discuss options with you and can also provide you with more information about the benefits of each type of cladding.
Interested in a New Steel Framed Building?
If you're interested in a new building, please contact us today. We are happy to discuss all aspects of the build and will provide you with a full design plan accompanied by a GA drawing. You can contact us directly through the website, or call us on 01283 735 522.